ID: 172693

Ekaterina

Ukraine

City: Kharkov Age:

19

Zodiac: Aquarius

,

Tiger Weight:

114lb, 52kg

Height:

5'6", 168cm

Eye Color:

Blue

Hair Color:

Black

Marital Status:

Single

Children:

None

Religion:

Christian

Smoker:

No

Drinker:

No

Education:

University

Job Title: Sports:

Fitness

Hobbies:

Sports

English:

fair

Languages:

Ukrainian (native),Russian (native)

Self Description: I am among those ladies whom are called assertive. I never play games or say the words I do not mean. I need someone with whom I can relax after a hectic day. Be sure I know many ways to relax. I enjoy family coziness and think that house is a place like a nest and I will protect it and make comfortable for my future family. For me time is the most precious resource and I try to live my life to the fullest. You would never say that looking at my photos, but I adore extreme kinds of sport. Feeling excited is something that drives me crazy, so for sure you would never feel bored with me. Dating service will help us to find their halves. But in everything else I am very kind, tender and calm. I see the life from it bright side and always know that everything is in my hands. I am very loyal, king and open-hearted lady. My heart is open for love and I want to present all my love and passion to my one and only man. Ukrainian bride difficult to choose because all the girl! s are very beautiful. And I believe that my Prince will find me. Purposeful, active, with a desire to learn new things in different areas, like communication and new acquaintances.

Comments: I am looking for a good, kind and serious man looking for family and simple happiness. The man I want to be with is interesting, open-minded, kind and respectful. He is also honest, loyal and responsible. He is the person who is not afraid to show his feelings or to talk sincerely when something goes wrong. I do not need a perfect man next to me as I understand that no one is perfect, but I need someone who has a kind heart and can listen and talk. I need someone who can protect me and provide me with love. I want to find a man who is serious, who can give me support and to whom I will give all my love and tenderness. I want to have a person whom I can rely in different difficult situations and believe me, I will repay the same back. Every morning I wake up and dream to see before me a beloved man, who will sleep beside me on the pillow. I listen to his breathing and gently touch his forehead with my lips waking him up! I want to love and to be loved by a real man,! who has understanding of love being a hard work for partners, who values trust, commitment, fidelity in relationships! For me, these qualities are the Foundation of a strong and long relationship, what are they for you? I don't set any limits to man, I can accept everything except lie and betray. The situation in Ukraine has changed dramatically and I began to appreciate the actions of people!




My additional Photos
Come see Ekaterina in Kharkov
Write Me Now!
Send flowers
Call me Now!
Add Ekaterina (172693) to Hot List
View Hot List
FREE DATING SEMINAR SATURDAY - PHOENIX
RSVP NOW!
---
2018 Seminar Schedule
Phoenix, AZ Feb 24th, 2018
Houston, TX Match 24th, 2018
Dallas, TX Match 25th, 2018
Baltimore, MD April 7th, 2018
Jacksonville, FL April 8th, 2018
Minneapolis, MN April 14th, 2018
Denver, CO April 15th, 2018

(602) 553-8178 Ext. 204
RSVP ONLY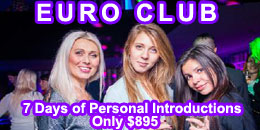 Euro Club